People come in and out of your life like a revolving door into a lobby…

YOU encounter them, sometimes make assumptions about them, interact with them, and may even have a cup of coffee with them.
Learners enter The Lobby and through inventive and engaging exercises:

•

Explore their biases and assumptions

•

Recognize how biases impact their interactions

•

Apply skills to challenging scenarios

•

Receive coaching and feedback

•

Leave with skills to apply immediately
The Lobby is diversity courseware like no other.

ProGroup created The Lobby using our curriculum built on 20 years of experience. It is comprehensive, including the skills of awareness and behavior change. The Lobby taps into the power of elearning with ingenious interactivity.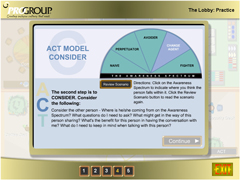 Using ProGroup's models and instructional design, The Lobby is user-driven—exercises are paced by the users and can be repeated and practiced. With approximately two hours of seat time, The Lobby enables you to bring intense, fully engaged diversity training into your environment with fewer time and materials resources than other classroom training.


It is a cost-effective, easy-access, on-demand, self-paced, results-oriented elearning course.

Click to Contact ProGroup and ask about The Lobby today!