ProGroup > Learn > Diversity Consulting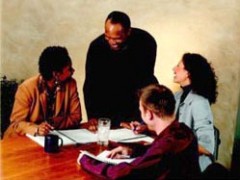 ProGroup diversity consulting brings a fresh perspective and an experienced knowledge base to address your company's diverse consulting needs. We start by understanding your business goals and then assessing your needs to recommend a diversity consulting solution. We become your partners, working for your success. Whether the end result is a strategic diversity plan, executive diversity workshops, a cultural assessment, or just plain advice, ProGroup consulting brings diversity knowledge and innovation to the situation.

Five reasons you need Diversity Consulting from ProGroup:

1. Diversity consulting will help focus you on actions that will deliver the results you're looking for.

2. Diversity consulting provides best practices to learn from.

3. Diversity consulting brings industry expertise to the table.

4. Diversity consulting is an objective voice in a sometimes political climate.

5. Diversity consulting asks the hard questions and then helps find the answers.

Diversity Consulting Services
For our Cultural Audits, ProGroup uses a variety of instruments and methods to gather and compile data. We know what questions to ask and can manage the process, from design to final presentation, securely and affordably.

ProGroup's Strategic Diversity Planning links diversity to your bottom line. We can build a diversity program that connects to every level of your organization.

We also can help you set up a Diversity Council, empowering your diversity team members with tools and skills that will grow your diversity initiative effectively.

ProGroup is a leader in Diversity Training, setting the industry standard for diversity consulting programs, diversity training tools, models, and top-notch facilitators with a diversity focus. We've delivered powerful training models to thousands of participants in dozens of industries.

ProGroup also provides diversity consulting to address the booming emerging markets and achieve bottom-line results. ProGroup's expert consultants have "been there and done it." They clarify the opportunity presented by today's changing demographics; they build an approach together with all constituents including diversity, marketing, advertising, product development, and customer service. Our diversity consulting assists you in measuring your results and celebrate your success.

back to top
Pulor Sit Amet
Consectetuer adipiscing elit. Morbi semper justo venenatis erat. In purus. Donec id ante enim.

Buy Now
Pulor Sit Amet
Morbi semper justo venenatis erat. In purus. Donec id ante enim fringilla dium elementum.